Add to favorites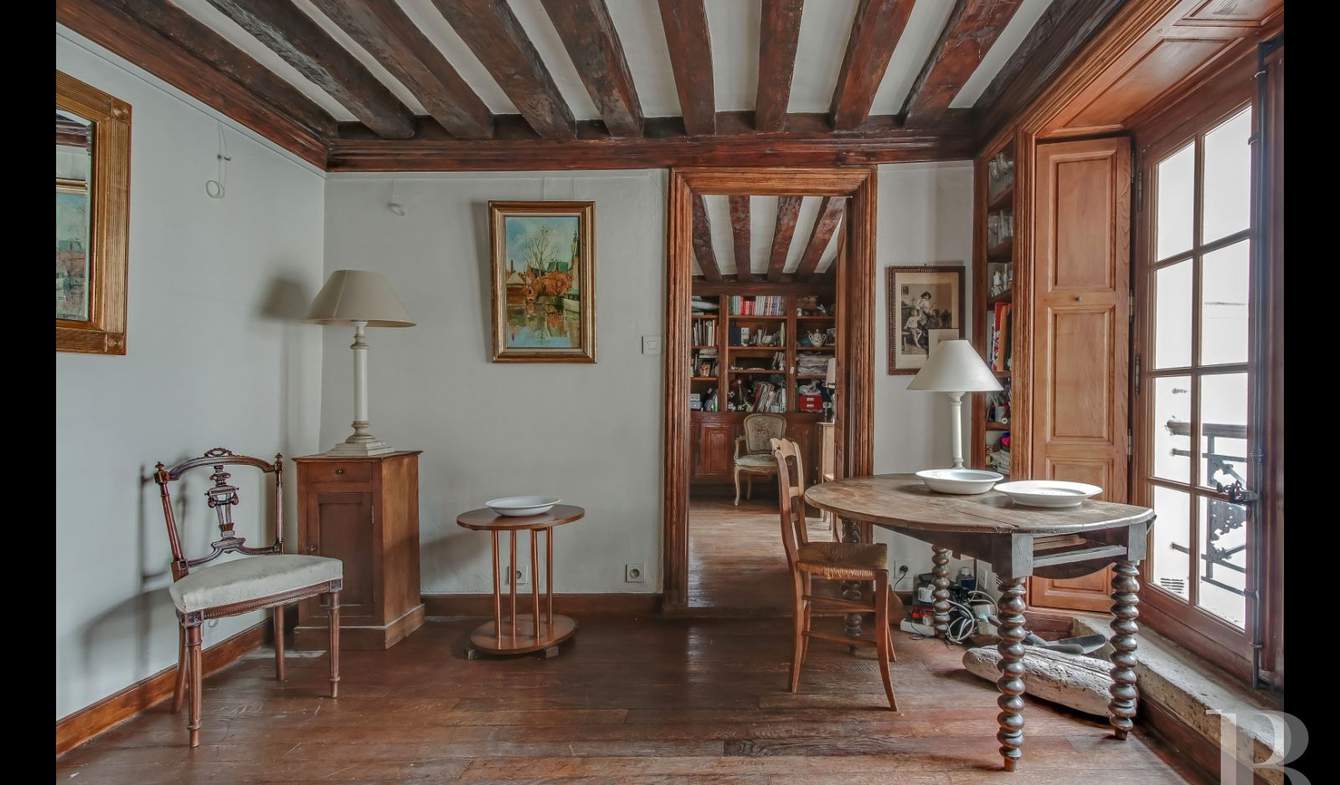 Near to the Palais-Royal Gardens, a 36 m² flat in a 17th century building.
The facade of the 17th century building features windows, with wrought iron railings, and semi-circular arched carriage gates. The carriage passageway, with stone pavements and pilasters, wall lamps and lanterns, opens into a large paved courtyard with its fountain.
This third floor flat, overlooking the peaceful courtyard, can be reached via a vast stairway with Louis XIV period wrought iron railings. Spanning a floor surface area of 36 m², this east-facing flat reflects a style typical of the 17th century with its parquet flooring, its indoor shutters featuring chestnut wood panels set in similar style surrounds and its mitre-cut wooden-framed, small-paned, windows, resting on the original stone window sills, with old, metal espagnolette bolts and fittings. The two main rooms and the bathroom feature beams set in oak wood cornice framing. The bathroom has octagonal stone floor tiles, with inlaid decoration, dating from the building's construction period. The bedroom is enhanced with a stone fireplace, a large bookshelf unit and a dressing room.
The flatAll attention is immediately drawn to the colours as of the entrance lobby. The hues of the beams as well as the oak wood parquet flooring and panelling in both main rooms, as well as the bathroom, reflect a range of warm shades, exuding the spirit of 17th century Dutch and French interiors interpreted here with a robust, sober style. The omnipresent wood blends harmoniously with the light-coloured stone. The entrance lobby provides access to a living room where a discreetly laid out kitchen area features a set of top and bottom moulded oak wood doors, providing cupboard space. Said kitchen area is enhanced with a splashback composed of glazed stoneware tiles. A refrigerator, a deep-freeze and an oven are concealed behind robust doors and panelling. The bedroom is enhanced with a stone fireplace, featuring old terracotta tiles and thin bricks. The hearth of the fireplace has a magnificent period fireback, depicting the coats-of-arms of France and Navarra, flanked by lions. On either side of said fireplace are two oak wood bookshelf units, with secret cabinets.
In this second room, the first of two panelled, oak wood doors provides access to a dressing room, whilst the other opens into the bathroom. The walls of the latter are covered with blue-tinted, glazed stoneware tiles, reminiscent of the Dutch and French porcelain inspired by the Chinese porcelain which was fashionable in the 17th and 18th centuries. The stone splashback for the bath and the stone top on the vanity unit are enhanced with gilt brass, dolphin-head taps from the historic Bricard house, Rue-de-Richelieu, founded in the 18th century.
Advertiser reference : 188456 - Le Figaro Properties reference : 28823499
Features:
EPC : D (188)
GHG : E (44)
Price details of this apartment:
Localisation :
75 Paris 2nd

By PATRICE BESSE

7, rue Chomel
75007 Paris 7th

phone