Add to my selection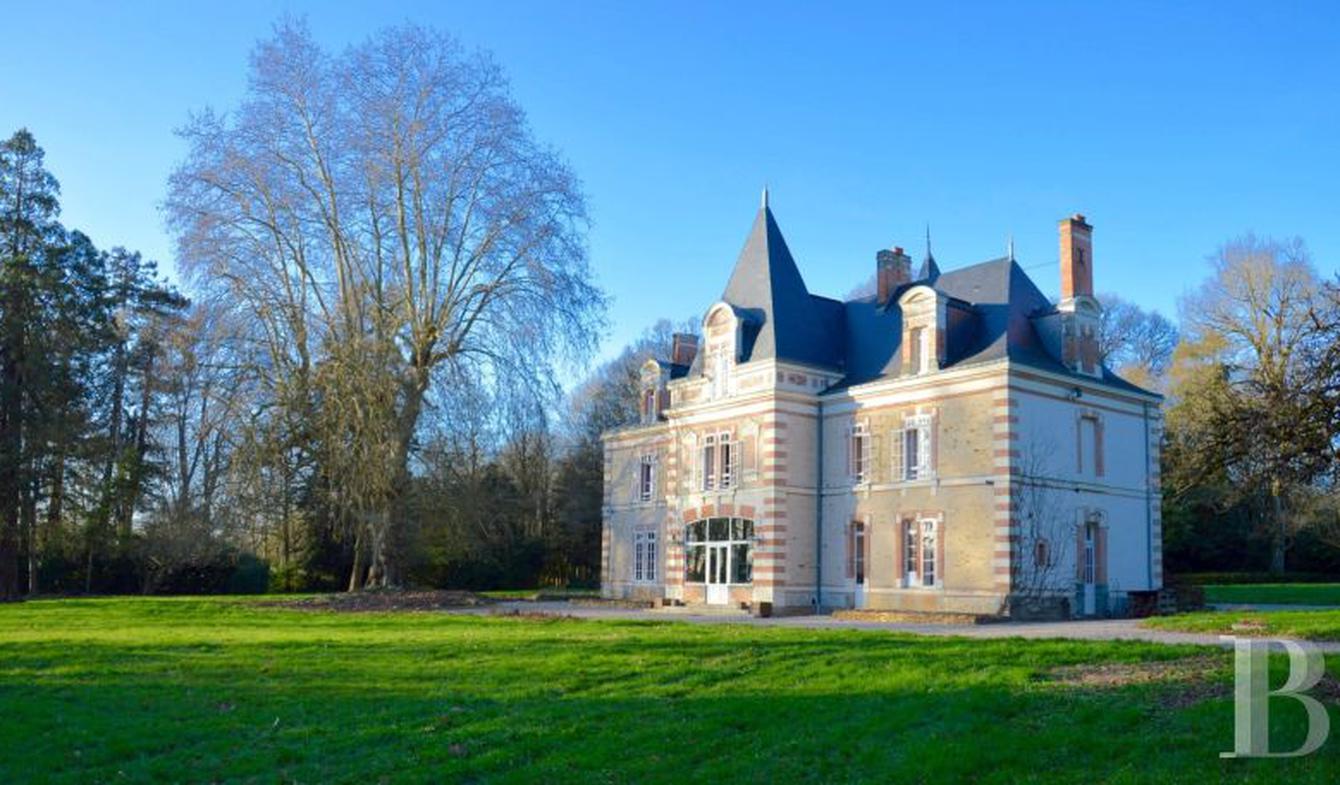 550

m2

14

rooms

9

bedrooms

land

130 000

m2
An elegant, 19th century chateau and its outbuildings, with 13 ha of landscaped parklands, in the Anjou region.
On the outskirts of a village. 5 km from a market town with local shops and amenities. Near to a main road going to the towns of Angers and Rennes, both linked to Paris via a fast train line. 45 minutes from Laval and a little over an hour from Nantes and its airport.
The entrance gates open off the street on to a driveway which, crossing the parklands, leads to a courtyard in front of the chateau and then to a group of outbuildings, set back from the main residence on the east side. These outbuildings could also be directly linked to the road via another driveway. The parklands are bordered by grasslands on the west and south sides. The chateau is beautifully set in the midst of its 13 ha of grounds.
The chateauThe construction dates from the early 19th century. Built from lime-rendered quarry stone blocks, this chateau spans three levels, one of which is an attic floor. It comprises a central building, with a projection in the centre of each of the two main facades. Brick and freestone has been used for framing around the openings, for cornices and for quoins. The slate roofs feature roof dormers.
Ground floor
The main entrance door opens into a large vestibule, with wainscoting and white floor tiles, inlaid with black decoration. It houses a wooden stairway with wrought iron railings. It also provides access to a hall area and two lounges, which also communicate directly with one another. The hall area leads to a dining room, adorned with wainscoting, a kitchen, a cloakroom and a toilet. The east side of the first lounge, also decorated with wainscoting, is semi-circular in shape. This room includes a small conservatory housed in the rear projection. Both lounges and the dining room have parquet flooring whilst the kitchen has terracotta floor tiles. The reception rooms are enhanced with marble fireplaces and that in the kitchen is made of stone.
First floor
The landing provides access, on one side, to two bedrooms, one of which is very large, a bathroom and the stairway leading up to the second floor. Straight on, a large bedroom has its own bathroom whilst, on the other side, are two bedrooms and a shower room. Most of the bedrooms have strip pattern parquet flooring and marble fireplaces.
Second floor
A large bedroom is on the left-hand side of the landing. A corridor, on the right-hand side, has a hall area providing access to a bedroom, with its own bathroom, two more bedrooms and a shower room. These rooms have strip pattern parquet flooring or terracotta floor tiles and two of the bedrooms have marble fireplaces.The outbuildingsThe outbuildings date from the same construction era as the chateau and comprise several buildings. A first section, forming the courtyard, includes the stables, with a small, recently converted dwelling, a caretaker's cottage and two barns, one of which is currently used as a cellar. In addition, near to the old vegetable garden, there are an orangery and a greenhouse. And lastly, an old dovecote and the vestiges of a wash-house stand at a distance.The parklandsThese landscaped parklands, spanning 13 hectares, are beautifully designed and immaculately kept. They are planted with numerous species of trees such as plane, magnolia, evergreen oak, bald cypress, Lebanon cedar, lime, oak, sequoia and yew. Some of these species are several hundreds of years old. They are enhanced by large copses of rhododendrons as well as flower beds planted with roses, hydrangeas, dahlias and azaleas. An old, partially walled vegetable garden, a line of old boxwood and an impressive row of oak trees ...
reference : 761639 - Le Figaro Properties reference : 20779449

By PATRICE BESSE

7, rue Chomel
75007 Paris 7th