Add to favorites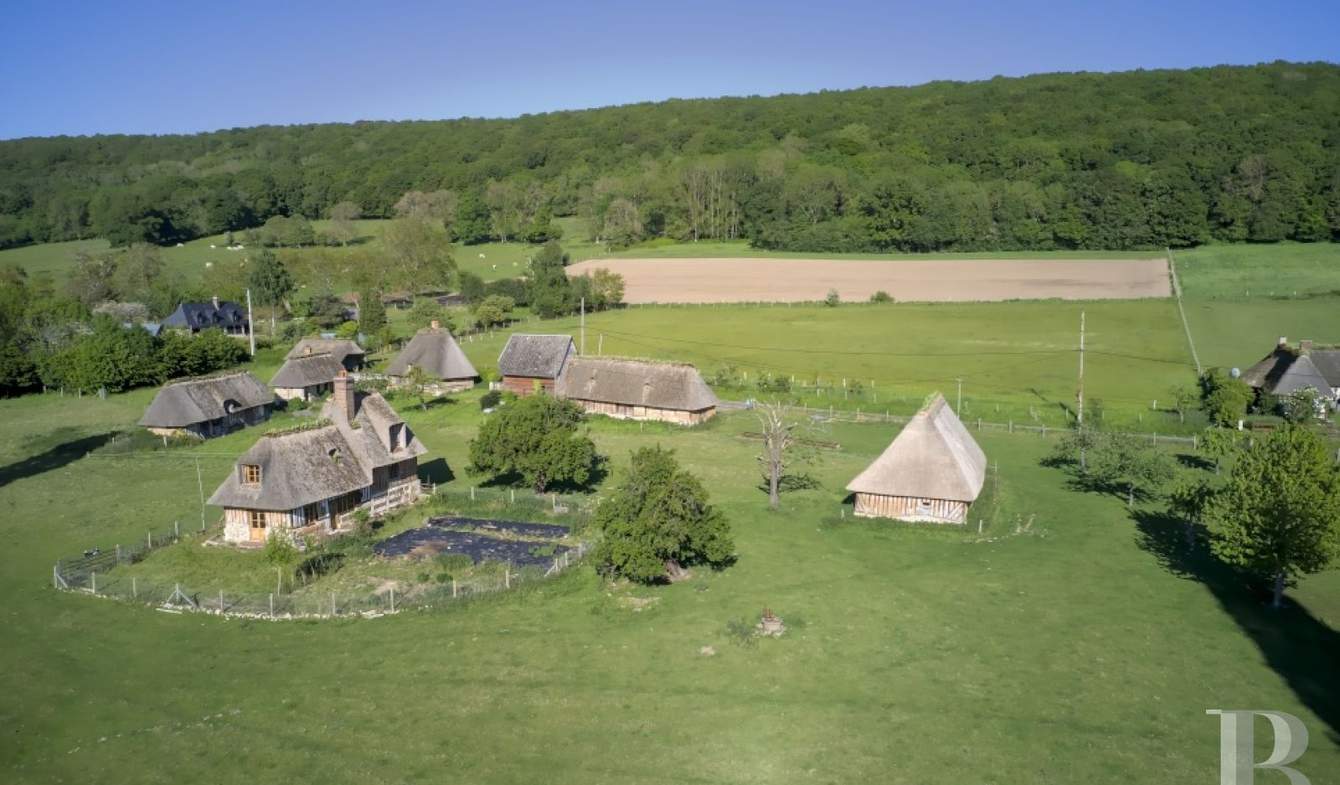 95

m2

3

rooms

3

bedrooms

land

1.9

ha
An old, 17th century, cider-producing farm, with almost 2 ha, in the Norman Seine River Meanders Regional Nature Park.
160 km from Paris, Deauville and its airport, with international destinations, can be reached in just 30 minutes. The town of Le-Havre, redesigned by Auguste-Perret, is also 30 minutes away. Two small towns are to be found in the surrounding area: Pont-Audemer, 15 km away, also known as "Normandy's Venice", and Honfleur, 25 km away, both renowned for their tourist attractions, their markets, often suggestive of good local products, as well as antique and second-hand goods dealers, where it is still possible to hunt out little gems, and not forgetting the art galleries, restaurants and all local shops. This attractive region in the French department of Eure is part of the traditional Normandy, off the beaten tracks. Set between the Seine and the Risle valleys, Marais-Vernier is a natural, unspoilt area, protected by Natura 2000 classification, an area spanning more than 4,500 ha which is, furthermore, home to the biggest peatbog in France and a major flyway for migrating birds.
This property is composed of several buildings, dating from the 17th century (1664) and forming a coherent estate, cleverly laid out on its grassy land, planted with apple trees where several sheep graze. There is also a well. Potentially suitable for a multitude of prospects, all the buildings await rehabilitation in keeping with their future owners' tastes. The architecture of the farm, typically characteristic of the Norman style, has flint and limestone lower sections, topped with cob-filled, half-timbered walls and protected by recent thatched roofs, featuring roof dormers. Numerous windows let in copious amounts of light.
The main houseA house typical of rural Norman architecture, it spans approx. 95 m² of living space over two levels. The traditional farmhouse, often all on one level, was given an extra floor when more noble, as is the case here.
Its cob-filled, half-timbered facades feature recent, wooden-framed, small-paned windows and French windows. The lower sections are composed of flint and limestone, laid in geometric patterns. The thatched roof features roof dormers with curved sidewalls.
The south-facing wall has been redone, the chimney redone and lined. Some of the windows have been changed and two shower rooms are in the process of being converted, a recent electric circuit board, a new roof and an all-water septic tank. Installing a kitchen and a central heating system as well as reorganising the interior layout will make it ideal as a holiday home.
Ground floor
Floors are covered with old terracotta tiles and ceilings feature exposed beams. The rooms include a lounge housing an impressive brick fireplace and a stairway, a dining room and a kitchen.
First floor
With wooden flooring throughout, this floor comprises two bedrooms, one of which has a fireplace, two shower rooms and two separate toilets undergoing conversion works.The old stableCurrently converted into a function room, spanning approx. 50 m² and able to seat some 45 covers, this old stable could easily be transformed into a guest house. Octagonal and square terracotta tiles cover the floors, the lower sections are composed of brick and flint, the walls are half-timbered and the ceiling beams are exposed.
The clay and straw mortar has been removed from the spaces between the half-timbering on the main facade in order to let in more light.
The old henhouseThis has now become a professional kitchen with a separate, independent toilet. With the same architectural quality as the other buildings, it could also become a comfortable dwelling.
Advertiser reference : 957483 - Le Figaro Properties reference : 28941103
Price details of this farm house:
Localisation :
27 Pont-Audemer

By PATRICE BESSE

7, rue Chomel
75007 Paris 7th

phone