Add to my selection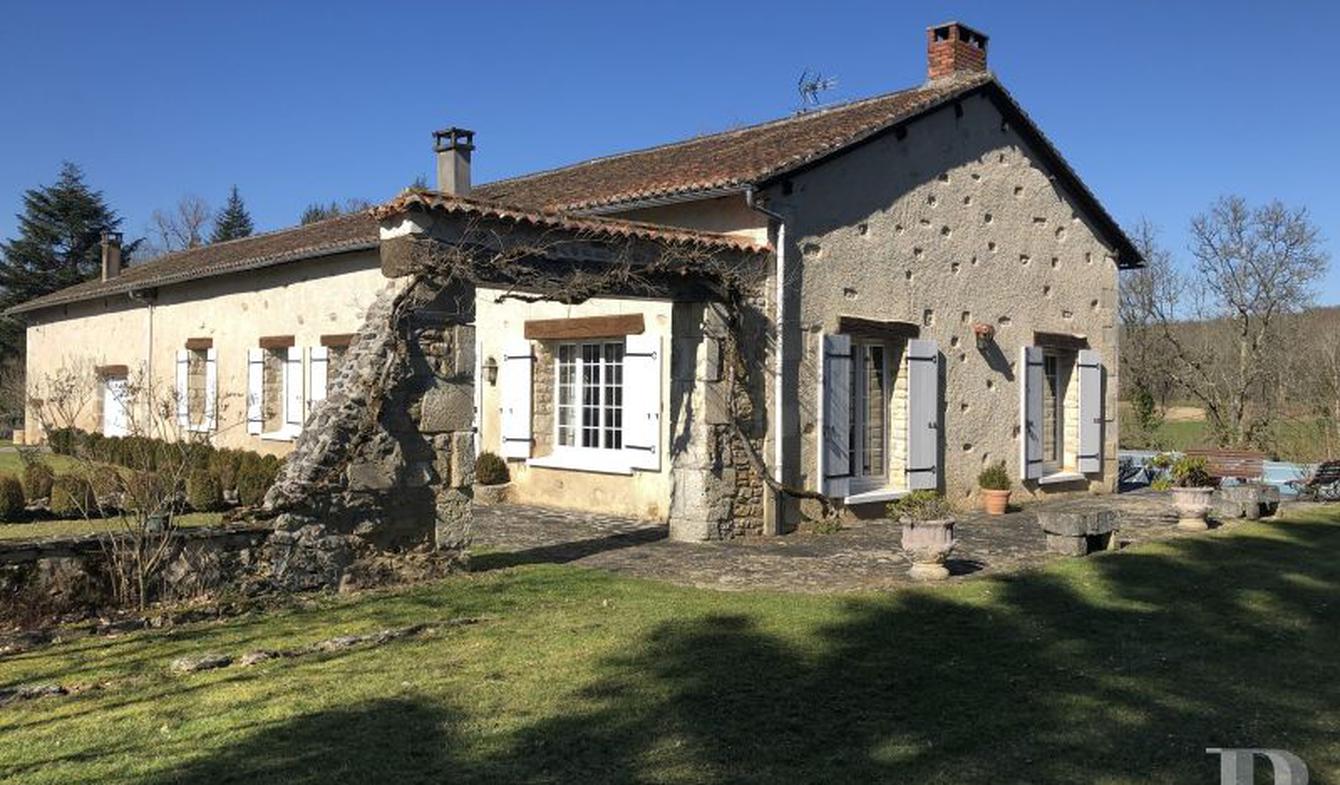 306

m2

6

rooms

4

bedrooms

land

1.9

ha
A traditional, long farmhouse and a house awaiting renovation, with 1.8 ha of parklands, on the riverside in the Green Périgord area.
Crossed by numerous streams and dotted with lakes of all sizes, this part of the Green Périgord area comprises naturally wooded and undulating surroundings where farming and animal rearing take pride of place without being invasive.
This property is about an hour from Limoges airport and Angoulême TGV train station. It is near to Nontron, the department's sub-prefecture, with all amenities, a cinema and a public swimming pool. The town is renowned for its first-class arts and crafts industries, supported by international companies dealing in leather goods, cutlery, saddlery and tableware. It is also home to an experimental centre for arts and crafts, grouping Nontron's craftsmen and artists.
This property, on a hillside where sheep graze peacefully, is surrounded by grasslands and copses. Completely enclosed with fencing and wrought iron gates, it is bordered on the south side by a narrow, little-used road, on the north side by a meandering river and on the west side by a chapel, a wooden walkway and a hiking trail. The land, initially flat, slopes gently down to the river. The unobstructed view stretches into the distance with cows in the field on the hill opposite. An old house, awaiting restoration, is followed by a parking area, a garden, with a boxwood alleyway, and an old watering place, transformed into an ornamental pool. A low stone wall and a stone porch way, topped with a wooden lintel and tiles, are the last vestiges of an old demolished outbuilding. They separate the garden from the parklands.
The old, fully restored barn now constitutes the main residence and a garage. A veranda is followed by a terrace and a garden where an oval swimming pool has been added. The east section of the property, delimited by fencing and dotted with tall larch trees, accommodates two Shetland ponies who have a loose box on the west side, next to the garden shed. Three invisible boreholes, next to a water well, provide the house with geothermal energy.
The houseThis 34 m long, rectangular house, an old barn converted into a traditional, long farmhouse, is constructed from lime-rendered, quarry stone blocks, with some exposed stone and dressed stone quoins. It is topped with a low, gable roof. During rehabilitation works carried out in the 1960's, numerous openings and a monumental granite fireplace were added. Today, it has double-glazing throughout and old-fashioned, gilt casement bolts operate the windows and French windows. Interior doors are made of solid wood or are glazed and feature stained glass. A long, L-shaped corridor, with lime-rendered walls, provides access to all the rooms as far as the garage which is separated from the living accommodation by a storeroom. The bright, through lounge, with its high ceiling and its six windows, includes a dining room section. This large room opens on to a terrace, looking down on to a swimming pool and parklands. It also has a restful view over the verdant hillside opposite.
The fully fitted kitchen is separate. A study, on the south side, precedes a bedroom. On the north side are a bathroom and a separate toilet as well as two bedrooms and a bathroom, with a toilet, which communicate with a 12 m long, fully glazed veranda and its barbecue. This veranda is followed by a lean-to which could house a camper van. The vast garage can take up to three cars, one of which to be parked on a mechanic's ramp. The semi-underground cellar is topped with a screed which is used as storage space, for a small boat for example. The attic space, which cannot be converted, can be accessed.
The outbuildingThis building was the old farmhouse. Although its two ...
reference : 519613 - Le Figaro Properties reference : 21376087
Localisation :
24 Nontron

By PATRICE BESSE

7, rue Chomel
75007 Paris 7th