Add to favorites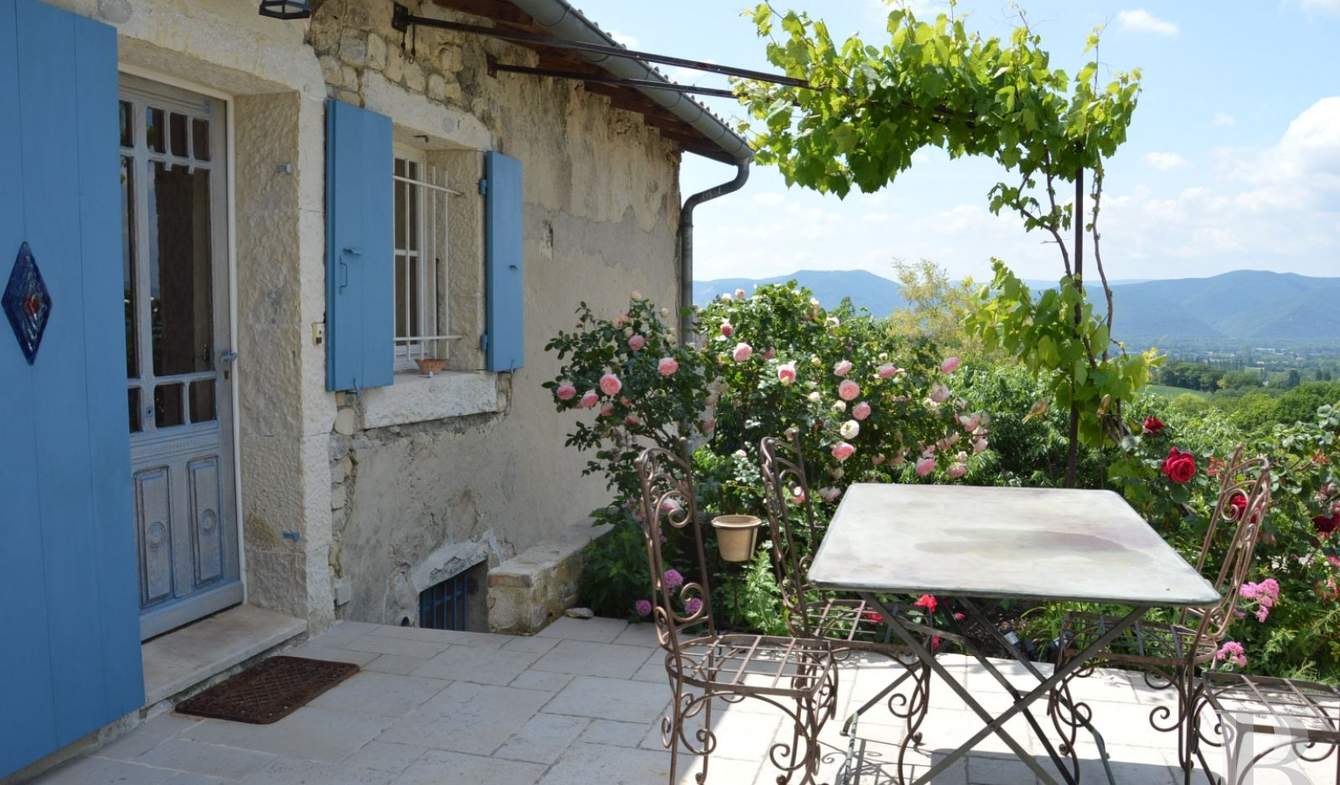 140

m2

5

rooms

4

bedrooms

land

300

m2
A village house with a panoramic view in the centre of one of France's most beautiful villages in the French department of Drôme.
South of Valence, in a village perched on a hillside. Still authentic in natural undulating countryside, it is classified as one of the 100 most beautiful in France. Its narrow paved streets are lined with stone houses with verdant gardens. This property is one of these houses and has an exceptional panoramic view over the Rhone Valley.
Between Valence and Montélimar, 30 minutes from a TGV train station with 2¼-hour links to Paris. 10 minutes from a slip road on to the A7 motorway which takes less than 2 hours to get to the sea. Geneva is less than 3 hours away by car.
This stone house stands in the centre of the village, in a maze of narrow paved streets. It has a garage which is quite a luxury given its site. The building, out of sight of onlookers, can only be seen from inside the gate. It comprises an old stone village house that has been fully renovated. Picturesque, it has been built on rock and adapted to suit the terrain. A little terrace stretches out in front of the entrance, where old roses, oleander and lavender bushes comprise the decor. The clear, panoramic view takes in the Rhone Valley. A little hanging garden, reached via the reception rooms, is concealed on the other side of the house.
The village houseThis house spans approx. 140 m² of living space over two levels. Its blue shutters stand out against the white, local stone walls. Roman roof tiles complete the house's Provencal architecture.
Ground floor
The partially glazed entrance door, featuring a fanlight, opens into a vestibule that leads to a reception room, two bedrooms, a separate toilet and a stairway, going down to the lower level. Both bedrooms are laid out on either side of the entrance door. One communicates with a bathroom, whilst the other, bigger bedroom has an old wood and marble vanity unit set in an alcove. Its inverted barrel vaulted, brick ceiling looks down on to parquet flooring and a French window opening on to a little balcony that runs alongside the house and communicates with the garden. The reception room, spanning approx. 53 m², features numerous openings and an atrium window, looking down on a concealed garden. A little stairway set in a corner provides a link from the garage (spanning approx. 40 m²) to the inside of the house. The room is heated by a fireplace and its sloped ceiling mirrors the roof. Open on to the living room, the kitchen has a door leading to a summer kitchen. The latter is laid out under a projecting roof and looks out over a paved terrace. A pergola, that adjoins a fountain, is partially covered with creeper. The garden is out of sight of onlookers and, as it has an unobstructed view, appears to be hanging in mid-air. Palm trees, rose and oleander bushes form a haven in this stone setting. And lastly, in the vestibule are the stairway going down to the lower level and a toilet.
Lower Level 1
A hall area provides access to two bedrooms, each with its own private shower room, as well as to a separate toilet. , Just like in the large bedroom, some of their stone walls have been left exposed, where stone alcoves have been restored and house the bedheads. The little bedroom also still has a stone alcove, enhanced with lighting.
Advertiser reference : 155278 - Le Figaro Properties reference : 17565339
Localisation :
26 Montelimar

By PATRICE BESSE

7, rue Chomel
75007 Paris 7th

phone