Add to my selection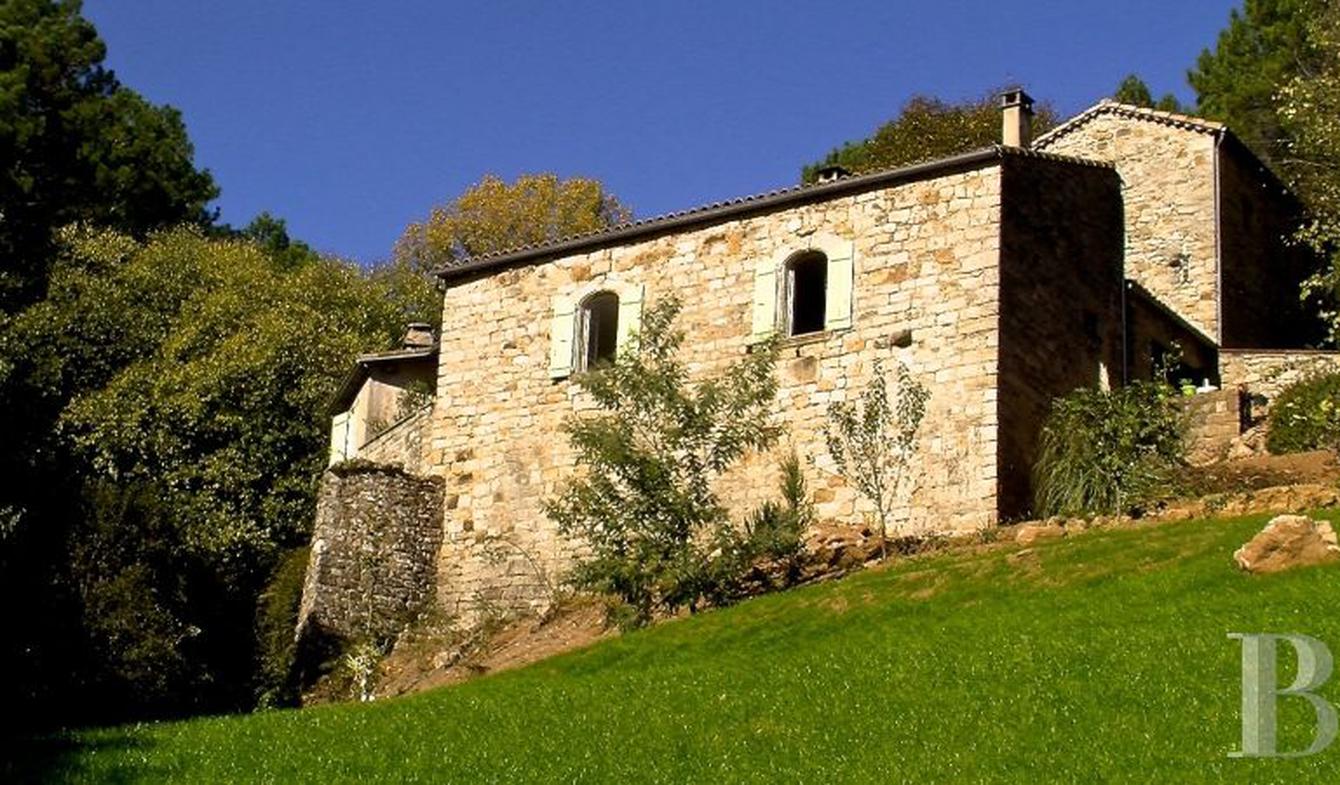 430

m2

7

rooms

3

bedrooms

land

3.6

ha
An old, pink sandstone, fortified house by the river Chassezac in the south of the French department of Ardèche.
On the outskirts of the town of Les-Vans, in a Mediterranean climate softened somewhat by the Mistral wind, in a landscape featuring sandstone and limestone, where the Ardèche mountain regional nature park meets the Cévennes National Park, where biodiversity has flourished. Chassezac Gorges, Naves with its geological and botanical interpretation guide, the Païolive Woods, where an extraordinary world protected by tower-like rocks can be explored, and the Ardèche Gorges are nearby, just like Chauvet Grotto and Orgnac sinkhole.
Two driveways, steep in places, provide access to this estate with its 3.6 ha, surrounded by electrified fencing connected to the mains to protect against wild boar. It is linked to a hamlet just a kilometre away by a rural track. The main, 300 m long driveway winds through its numerous plots of terraced land, planted with pine and one hundred year old oak trees as well as some giant heather. These have been cleared of undergrowth and stones, fertilised and planted with a variety of grass, much appreciated by horses, chosen for its resistance to summer drought. An orchard comprises numerous fruit trees (peach, almond, fig, cherry, apple, apricot, etc.). Strawberries, blackcurrants and raspberries are also cultivated, as are vines, the 70 vine stock producing a table wine. Two vast, organic vegetable gardens are highly productive and meet annual needs.
An irrigation system channels water from the river (official pumping rights). An old stone ornamental pool, fed by springs, is undergoing restoration works. A stream channelled by low walls crosses the estate for some 500 m (2 banks on the property). Another stream acts as a border for about 700 m (superb cavernous groupings of rocks).
Bordering the property, the river Chassezac is reached via a jetty over one of the streams. One plot extends as far as the shore with its sand and pebbles. The clear, bracing water of the Chassezac flows continually throughout the summer and its width as this point varies between 50 and 70 m.
One protected sector acts as a vast swimming area. It is also possible to go canoeing for a long distance from the estate.
The plants, watered by means of water conveyancing, by a continual spring and the river (pump and slice gate system), can defy the heat coming up from the Languedoc and Provence regions.
The buildingThis residence was constructed on the side of a hill five centuries ago and modified at a later date. Its homogeneous style features blocks of pink sandstone, now bearing the patina of time, extracted in situ and squared off in the way that the old stonecutters knew best. This once fortified residence still has its main features such as its superb original flagstones, its monolithic framing, its very old fireplace recessed in the thickness of the wall, its passageways and its vaulted rooms. It was recently discreetly modernised, providing a vast living room with white stone tiles, stylised metal door and window frames as well as a contemporary kitchen, with solid acacia wood cupboards and a central unit. Extending the living room, the covered terrace provides a wonderful view of the river and the surrounding hills.
The construction spans two main levels, following the lie of the land. It is entered via the top level either through a closed courtyard or directly into the current living room. An original stairway, made of stone blocks, leads to the lower level, providing access half-way down to the inner courtyard (15th century porch way, metal door and window frames with double-glazing). An area under cross-ribbed vaults, with monolithic stone walls and large, perfectly restored original flagstones, is heated via a contemporary cast-iron wood-burning stove. It is illuminated, on ...
reference : 768884 - Le Figaro Properties reference : 16628169

By PATRICE BESSE

7, rue Chomel
75007 Paris 7th