Add to favorites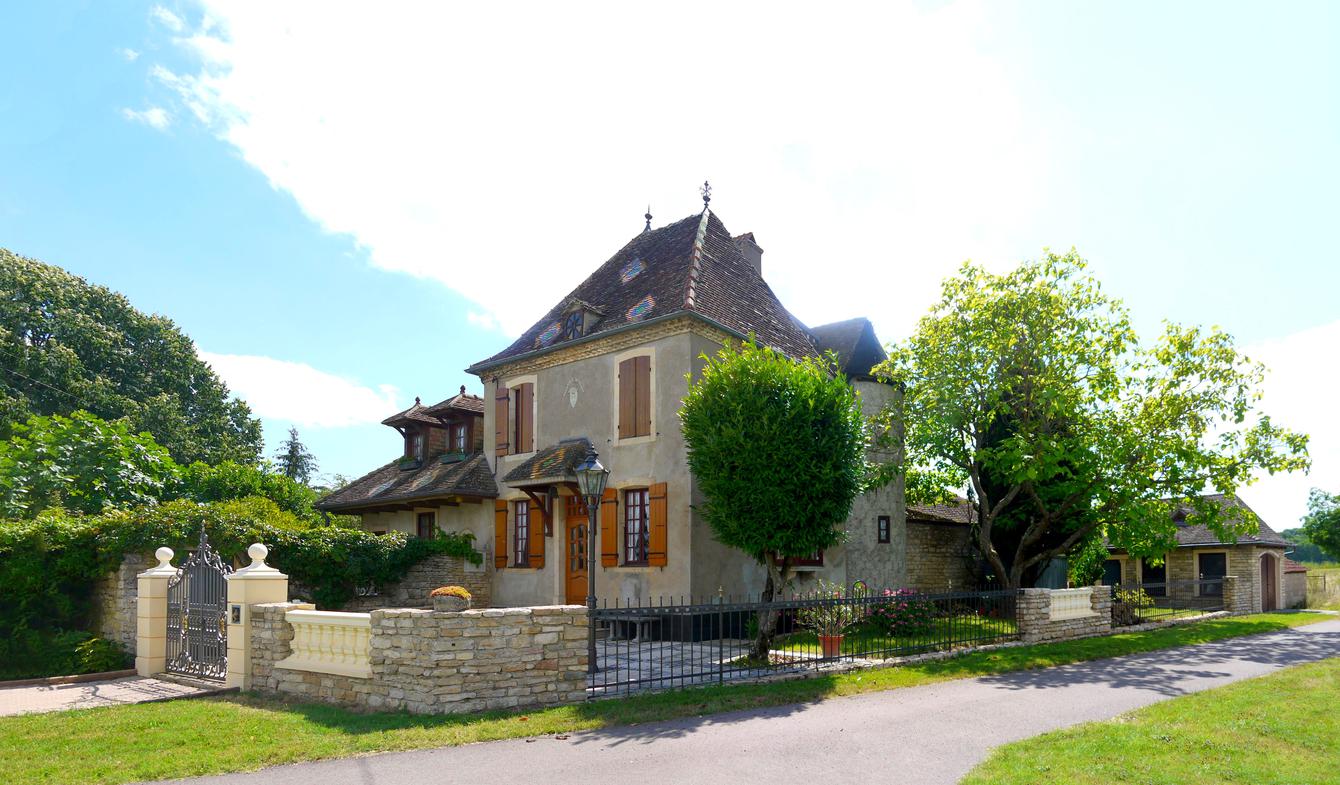 124

m2

4

rooms

3

bedrooms
In Saint-Gervais-en-Vallière - 12 km from the town of Beaune and 2 km from Saint-Loup-Géanges - Surprising mansion on 2 levels, mix of Burgundian and Baroque Germanic style, composed of 124,20 m², 4 main rooms including 3 bedrooms, one is on one level.
This 19th century house had several lives between pleasure pavilion for hunters' meetings and ballroom. It is the current owner who has completely rebuilt it and especially as anecdote cleansed by a personal work worthy of convict dismantling, meter by meter, all the outer walls at ground level to seal them to prevent any risk humidity.
From the beginning, this house is surprising with its four-sided roofs with touches of glazed tiles Burgundian, skylights Capucines rump brimming, a canopy entrance door to small roof tile nasturtium roof, an oriel (advanced window corbelled) on the right facade... But the passage of the portal itself, held by stucco pillars made to measure, welcoming the visitor in a courtyard paved with massive stones of comblanchien embellished with an old lamppost, questions, when knows that the owner has made them himself.
You can access the interior of the house through the main door that leads directly into the living-dining room, but it is usually to go through an amenity courtyard opening onto a kitchen of 10,20 m², equipped and luxuriously furnished with worktop and gray granite floor decorated with Macauba tiles (blue granite from Brazil). It opens onto a sturare arabic floor of Carare, which communicates with an identical toilet but in one piece with a shell-shaped washbasin and a window with stained glass windows. Facing this toilet, a bathroom, always decorated marble, has a shower and a sink. Between the kitchen and the bathroom, a guest room of 10.20 m² is the only room on the ground floor which has a solid wood douglas parquet floor.
Crossing the clearance from the kitchen, we end up in a large dining room/living room still made of Carare marble, but work for more comfort is underway to replace it with a solid Douglas fir floor of the Black Forest. This beautiful living room of 32.60 m² has a large open fireplace and the advanced window corbelled already reported.
All the ceilings on the ground floor are "à la française" with a beautiful carpentry of girders.
We pass the stay on the 1st floor by a tower in which was built a spiral staircase in Travertine stone dimensions designed to be pleasant to climb, and whose handrail is made to order wrought art iron patterned of hunt.
The landing which leads to the first floor distributes on a small room (or office) of 8.60 m², but mostly leads to a large extravagant room of 31.70 m² lit by 2 windows with a dressing room holding a wall . A door whose amounts are decorated with amazing pilasters with golden patterns gives directly into a bathroom to the size of 20.70 m². An impressive bath in the center of the room, while a hydromassage shower is also available. A separate lavatory is hidden behind a door in one corner of the room.
Going back down the stairs to the basement, after having passed the threshold of an imitation old door , whose uprights are bordered by 2 golden pilasters, we discover a nice vaulted wine cellar specially dug and set up by the owner for friendly tastings dedicated to Bacchus.
Outside, a garage looks more like a small chapel dedicated to the car with its stone construction and stained-glass windows with small diamonds.
Most of the exterior frames of the house are double-glazed wood. The central heating is oil fired, while some of the hot water is produced by a solar water heater placed on the roof to reduce the hot water bill up to 75%.
Adjoining the house, with extraordinary outbuildings at multiple possibilities of extensions, was included in the price of this sale an old big farm of 216 m ² on the soil, also having a 1st floor. This farm, which is completely to rehabilitate and renovate, would add 1462 m² of land bringing the whole to 2272 m², which would also prevent the possible disadvantages inherent to the proximity and the mixture of the 2 properties.
The all on a plot of 810 m² or 2272 m ² according to the type of purchase, at the edge of the meadows in a central environment as well as bucolic.
Visit of this product that is absolutely necessary to to become aware of its exceptional character.
© Copyright 2018 RM-ag3r - All rights reserved - Reproductions even partial text and photos PROHIBITED on any medium without citing the source.
Advertiser reference : 3605 - Le Figaro Properties reference : 18361175
Features:
Fireplace
Garage & Parking
Garden
Landscaped garden
Maid's room
Outbuildings
Terrace
EPC : B (90)
GHG : B (10)
Price details of this house with garden and terrace:
Fees to be paid by the seller
Localisation :
71 Saint-Loup-Géanges

By AGENCE DES 3 RIVIERES

15 rue François Fertiault
71350 Verdun-sur-le-Doubs

phone