Add to my selection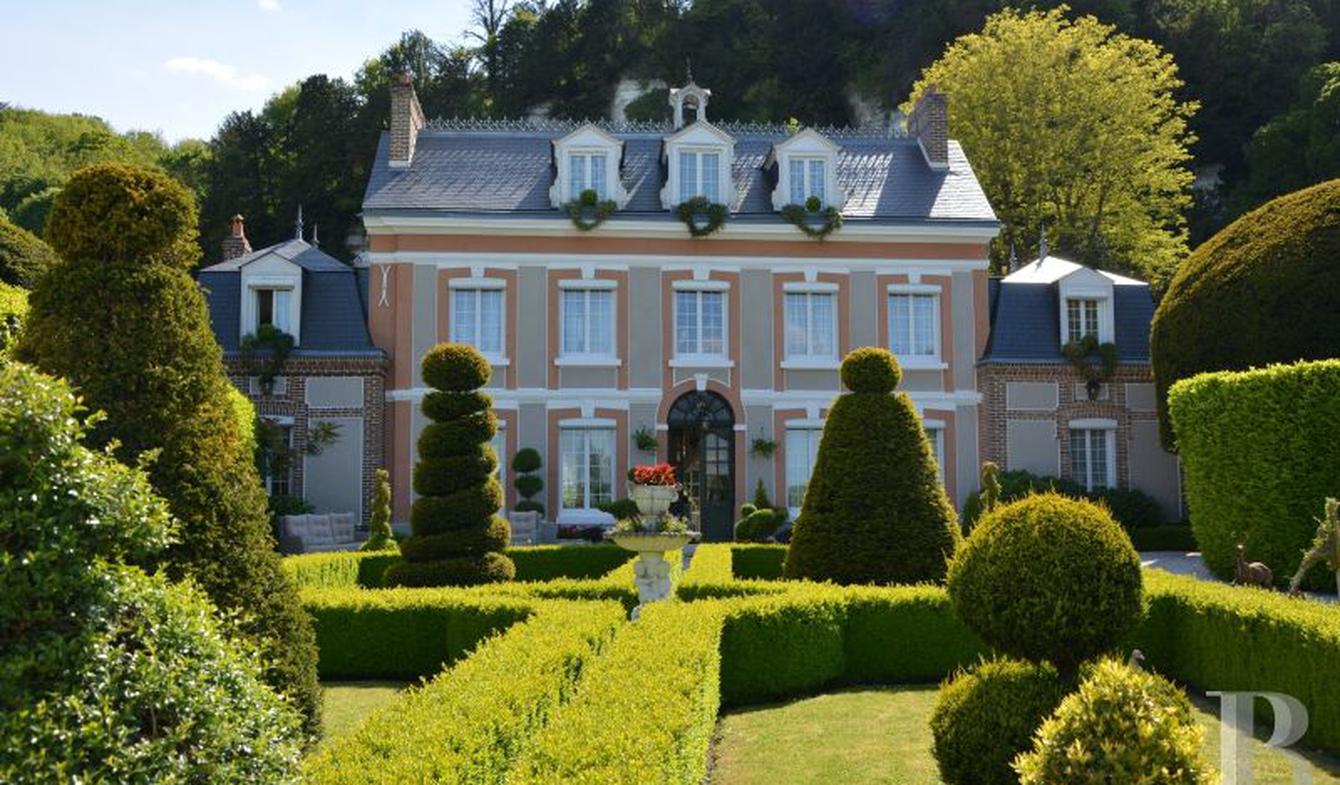 260

m2

10

rooms

5

bedrooms
In a meander of the river Seine, near to Brotonne Forest, a luxurious, 19th century residence and its annex house in 4,800 m² of parklands.
130 km from Paris and 25 km from Rouen, a small village, constructed at the foot of a cliff, is a birthplace of writers and impressionist painters as well as a much-appreciated holiday haven for inhabitants of Rouen.
There is no need to go as far as Rouen to find supermarkets and cinemas. The little town of Bourg-Achard, 8 km away, is much nearer and has all shops and amenities. Within walking distance, about a kilometre away, are local shops and restaurants. As far as leisure pursuits are concerned, there are water sports as well as pedestrian, cycling and horse-riding activities in the forest and speleology in the cliffs. A ferry crosses the river Seine.
An SNCF train station just 16 km away provides links to Paris.
A forest separates the village from the A13 motorway. Consequently, there are no audio or visual nuisances. This stone-walled property has vast parklands directly backing on to the cliff. The garden and the upper floors of the residence have an unobstructed view of the river. French formal gardens can be glimpsed through tall, 18th century gates, on the facade side.
A guest house stands a short distance from the residence with a heated swimming pool, under a sliding, retractable cover.
Three small outbuildings, including a workshop, a troglodyte cellar and a small 2-storey dwelling, used for storing linen, could be converted into a studio flat.
An ornamental pond completes the parklands.
The beautiful residenceThis house, spanning 260 m² over three levels, comprises five bedrooms, two shower rooms and a bathroom.
Its central building has been flanked over the years by two pavilions, all illuminated by numerous, small-paned, predominantly through openings. The forty windows are protected by rolling shutters.
Slate covers the Mansard-style roof on the pavilions and the gable roof on the central building, the edge of which has an ornamental ridge all along its length. Triangular pediments enhance the internal roof dormers on the top floor of each section of the building.
The main facade, formerly featuring brick and flint, like the opposing facade, is covered with pinkish beige cement.
Ground floor
Ceilings 2.9 m high.
The entrance hall, with a door leading to the parklands, provides access, on one side, to a huge, panelled lounge and, on the other, to a dining room, both rooms featuring a fireplace. A large kitchen also has a door leading outside.
The floors are covered with oak wood parquet flooring, laid in a herringbone pattern or with tiles.
First floor
A left-turning stairway, with a wooden banister and wrought iron railings, goes up to a landing providing access to a gallery, which has an impressive view over the river. All four of the bedrooms on this level have their own bath or shower rooms as well as a view over the parklands.
Second floor
The ridge in the converted attic space is 2.77 m high. It is reached via a stairway, with steps covered with terracotta tiles and wooden nosing.
A dressing room in two sections, and a large room that could be converted into an additional bedroom take up the space on this level.
The guest houseThis small house has quarry stone block and flint facades, adorned in places with toothed, brick quoins.
A large, open-plan room on the ground floor and an identical room upstairs constitute extensive living space.
Ground floor
A large living room, combining an open-plan kitchen and lounge areas, houses a right-turning stairway providing access upstairs. Double French windows open on to the garden as well as the swimming pool.
First floor
A large, bright room, laid out under the rafters, ...
reference : 900707 - Le Figaro Properties reference : 22953929
Features:
EPC : D (207)
GHG : E (47)

By PATRICE BESSE

7, rue Chomel
75007 Paris 7th

phone