Add to my selection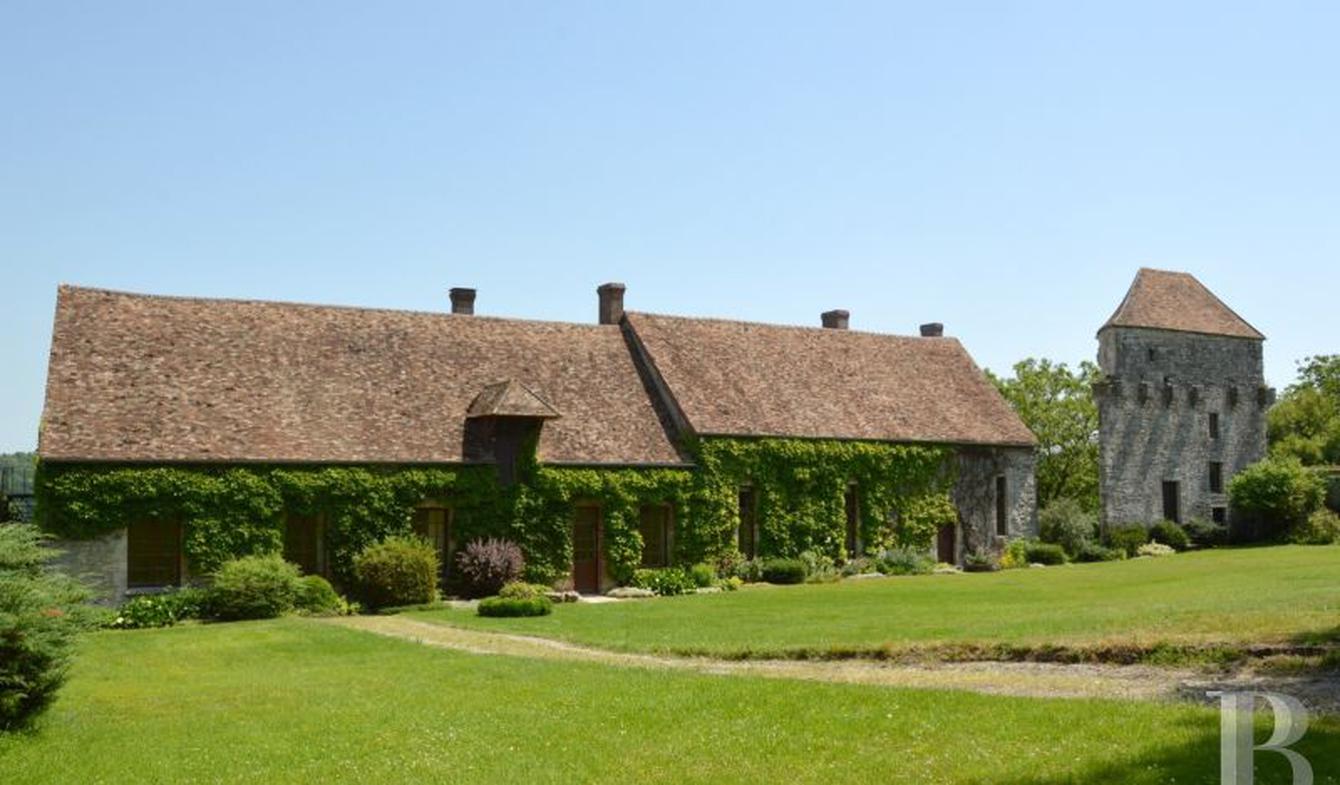 500

m2

7

rooms

3

bedrooms

land

10.9

ha
180 km from Paris, overlooking a valley, a listed, 15th century, fortified house and its keep with 11 ha.
2œ hours from Brussel and Luxembourg, an hour from Epernay and 40 minutes from Reims and its TGV train station with 40-minute links to the French capital.
The entrance to this property appears at the end of a farm track almost 2 km long which runs alongside a wood, visited by roe deer, squirrels, rabbits and partridges. Said entrance takes the form of plain metal gates, accompanied by a small caretaker's cottage and farm buildings forming a vast enclosed courtyard with, set back, a house and a keep which dominate the valley. Behind the house is a vegetable garden, fully enclosed by metal fencing.
Adjoining these buildings, a meadow of about one hectare and a wooded plot, extending over some 8 hectares, with a hunting plan (2 roe deer, 3 wild boar).
The houseThis impressive building, constructed from quarry stone blocks, comprises a long, single-storey house built over vaulted cellars. The roof, covered with flat tiles, features roof dormers that illuminate a second level, reached via an outside stairway, going up against a gable wall. In use as an attic, it is neither converted nor insulated.
The main facade, preceded by wooded, flower-filled parklands, is covered in Virginia creeper. The more austere rear facade features impressive buttresses and straight windows, providing a clear view over the valley. Semi-circular arched doors give access to vaulted cellars.
Ground floor
The house is entered via a heavy, oak wood, semi-circular arched door which opens into a small hall with a cloakroom.
It communicates with an 80 m² reception room that precedes a 32 m² lounge. Both these rooms feature two outstanding fireplaces, classified on the French Supplementary Historic Monument List. They also have French ceilings and polished stone floors as does the kitchen which is laid out in what is roughly the centre of the building. Preceded by a pantry, it has direct access to the parklands via a door, partially glazed with small panes. This good-sized, 34 m² room is fitted with built-in oak wood units.
The three bedrooms (spanning between 17 and 23 m²) are mostly carpeted and each has a bathroom, whilst the biggest has a dressing room and a toilet.
First floor
Spanning approx. 250 m², this level is used as attic space. It is currently reached via an outside metal stairway going up against a gable wall. It would be possible to create an indoor stairway and convert this vast area into living space.The keepBuilt in the 15th century from quarry stone blocks, this keep is listed as a French Historic Monument. It spans two levels and its roof is covered with flat tiles.
A semi-circular arched door leads to a cellar with a bread oven. A second door, reached via a few steps, opens into a room on a mezzanine, from where a stairway goes up to a small living room, with bare floorboards and a stone fireplace.
The caretaker's cottageStanding at the entrance to the property, this single-storey cottage was constructed more recently. It comprises an entrance hall, a small lounge, a kitchen, two bedrooms, a bathroom and a toilet, all laid out over a cellar.The outbuildingsThe outbuildings enclose the courtyard and comprise a vast, metal-framed farm shed as well as the old stables and cowsheds with their cement floors. The roofs, in a good state of repair, are covered with interlocking tiles.
reference : 768663 - Le Figaro Properties reference : 24281861

By PATRICE BESSE

7, rue Chomel
75007 Paris 7th

phone