Add to my selection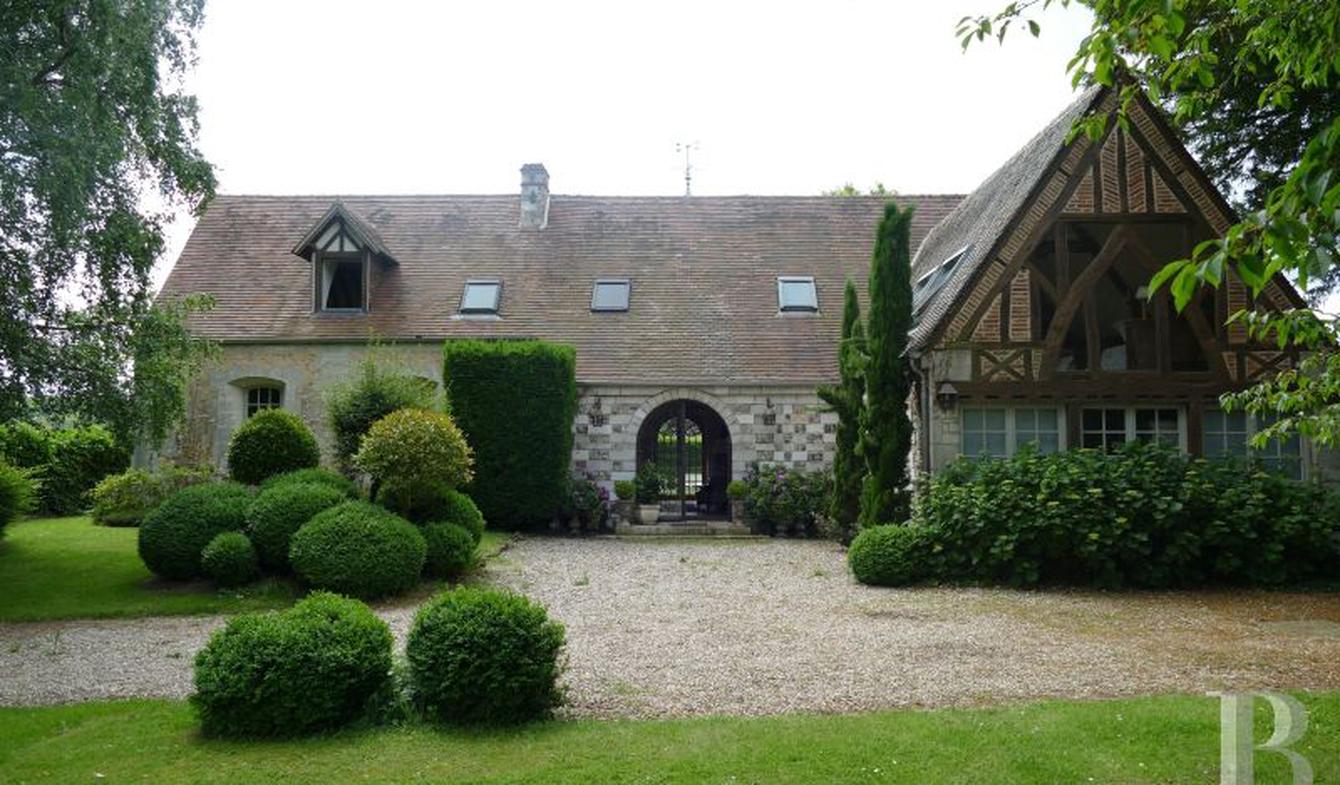 224

m2

6

rooms

4

bedrooms

land

3 904

m2
In the French department of Eure, less than 2 hours from Paris, a 12th century chapel transformed into a house.
In a small market town nestling in the midst of the Bec Valley in rural Normandy. Just a short distance from a little village classified as one of the most beautiful in France and famous for its outstanding Benedictine Abbey founded in 1043.
Some 40 km from Rouen, 150 km from Paris and 50 km from Honfleur, near to slip roads for the A28 motorway and 5 km from a train station with 2-hour links to Paris.
Neighbours in this peaceful, countrified setting consist of small local houses, farms with cows grazing in the surrounding meadows.
This property is reached via a little country lane, leading to entrance gates that open on to a gravel driveway going right up to the house.
A chapel with origins dating back to the 12th century, it stands in the commune's old town. Abandoned by the monks after its construction, it was used for storing the farmers' harvests. It then fell to an owner from Lisieux who was hardly ever there until, in 1966, it was acquired in a very dilapidated state by a purchaser from Rouen who decided to carry out major restoration works, giving it its current appearance. Over the years, as a result of a series of different residents, it has been continually enhanced via redesigning works which have bestowed it with the appearance of a peaceful retreat, whilst preserving its authenticity.
The current owners have also managed to preserve the premises and have, in turn, added their own personal touches. After having carried out first-class works over several years, they have turned it into a majestic, quiet holiday home.
The grounds surrounding the chapel have also been completely redesigned and landscaped as a priest's garden, planted with boxwood, decoratively trimmed into ball or topiary shapes, fruit trees, copses and flower beds, containing a mixture of perennial plants and herbs.
The chapelThis chapel is laid out over two levels, one of which is under the rafters. The soberness of its external appearance contrasts with the elegance and refinement of its interior. The facade walls are composed of pointed flint, with dressed sandstone blocks framing all the openings and forming a harmonious chessboard pattern on the main facade. A few Saint-Jean bricks provide a touch of fantasy between the half-timbered gables set at right angles.
A wide, arched entrance is fitted with protective wrought iron doors. The many openings, including double, arched, small-paned, wooden doors and tall windows, provide this building with its own special elegance.
The gable roof, covered with local tiles, features skylights and a shed dormer.
Ground floor
A wide vestibule, housing a toilet and a stairway, separates the house into two sections. All the floors on this level are paved with terracotta tiles, bearing the patina of time.
The stone, arched entrance doorways, adorned with a pediment containing a mascaron, provide access to a lounge, with a Louis XV style fireplace. The walls are composed of dressed stone and flint whilst the ceilings feature exposed beams. Double, wide, wooden doors, glazed with small panes and a fanlight, open on to the garden, letting copious amounts of light into the room.
A wooden bookshelf unit, set in a recess, forms a perfectly integral part of this room.
A little corridor on the other side of the vestibule leads to a large room, laid out as a dining room, with lime-rendered walls in hues of grey. The thickness of the latter is demonstrated by its windows. Its ceiling beams are exposed. A fully fitted kitchen opens into the dining room, reinforcing the conviviality of this area which also includes a door leading directly out on to the terrace.
First floor
A landing gives access to four bedrooms, one of which is fairly large with oak wood ...
reference : 948708 - Le Figaro Properties reference : 23699959

By PATRICE BESSE

7, rue Chomel
75007 Paris 7th